Finally found the answer, but still more questions
So it's a few weeks late, but things as they are, I'm surprised I'm posting this year. On this D-Day, I say thanks to all the vets who fought and fight for our freedom.
It's been my habit the last few years to take my mom to the cemeteries on memorial day. I think I'm the only one of my sibs who knows where they all are and who's where. I suppose when she's gone, I'll still do it.
Though the graveyards are starting to fail...
I couldn't find Walter Harvey and his wife Orcinda (gggg-grandparents, b ~ 1780), though I have pics from their gravestones a few years back. I couldn't find John and Polly Harvey (ggg-grandparents b ~ 1805), either, though I also have pics of them. (Delraine, the gg and his son Stephen, the g, are still accounted for.) On the flip side, I did a little walking around and totally stumbled onto Stephen's in-laws - the stodgy Harris family. Didn't take a picture, though. I'll have to go back this summer.
I've blogged before about my
fixations with cemeteries
in general and my
family genealogy
in specific. My grandma's mom's family is one of the few dead ends (pardon the pun), and it bothers me. So, every once in a while, I try to track something down.
This year, I decided to track down Thomas Crompton's grave. I thought maybe his family would be buried near him, lending more clues to the family in general. It ends up that my sister-in-law's father is buried in the same cemetery, so she knew where it was. I dragged her with me (I usually drag some unsuspecting poor soul on my treks, usually my mom) since she could navigate. I didn't think I'd easily find the grave. But, believe it or not, I did.
Unfortunately, it just opens more questions. Grandpa Crompton is buried alone. The nearest grave is another soldier from the GAR who has no family buried around him. I'm guessing that the Vet's Association (the same people that put the new flags on the soldiers graves every year, bless them) paid for Thomas Crompton's burial. But there was no such dignity for his family.
I planted him some flowers and yelled at him for leaving his family to cope without him. Suicide when you have a family dependent on you is just wrong. But he is, they all are, remembered... even if it's only by me.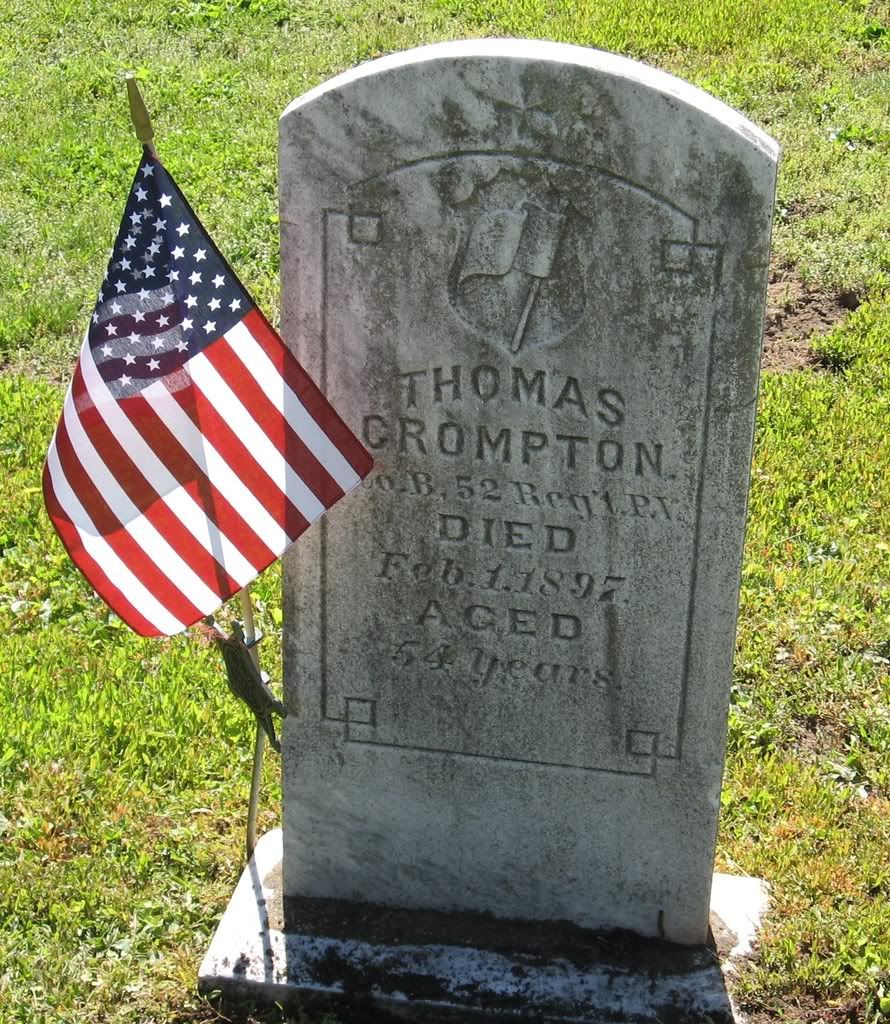 Labels: yarns