Cult Membership Attained
So, as I've mentioned before, iRock – 128 meg. It holds about 33 songs – enough for 1.5 torture sessions.

The other day, I was ogling the mp3 players at Best Buy when one of my cohorts from Spaceleys noticed me. He's on the security team, and they're all about Macintosh. Don't quite know why. Anyway, he had just gotten a new nano; a 4G (they had just come out a few days before. He got it before the whole rush.) Anyhow, he convinced me to borrow his Shuffle.

So, I loaded iTunes on my laptop. And I plugged in the iPod. And it loaded 250 songs. And one week of running later, I hadn't heard the same band, let alone the same song. I was hooked.

But, the quandary: Nano or Shuffle? In the end, the cheap-ass side of me kind of won. I got the 1G shuffle. The funny thing? It cost the same as the iRock did three, almost 4 years ago.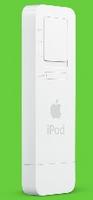 Looks like a pregnancy test stick, eh?


(*)>